Judd McIllvain Home Show Featured Expert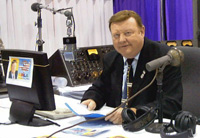 Two time Emmy and eight time Golden Mike award winning TV and Radio personality Judd Mcillvain "The Trouble Shooter" is one of the most trusted consumer investigative reporters helping consumers avoid disreputable businesses.
He has done reports for ABC News, KCBS TV News, CBS?s 48 Hours, United Press International, CBS News, and has been in broadcasting for 40 years. The CBS TV Research Department rated Judd McIlvain as the TV personality with the highest ratings in Recognition, Trust and Credibility.
That is why Judd McIllvain has recommended Dave Bischof as "One of the Good Guys".
Was nice to find a company that is honest and treats an elderly person (I'm 88) with respect & like one of their family and not being taken advantage of.
– Deane Schultz