Sewer Video Camera Inspection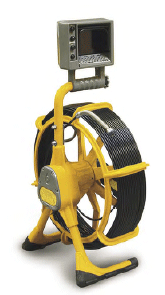 Many plumbing firms guess what is in your sewer. If they encounter a failed or broken sewer, which is the only way roots can grown in, usually the recommendation is to replace your entire sewer. This is analogous to cutting off your arm when your finger is hopelessly infected. If they actually had sewer cameras to use rather than just advertise them and not have the equipment with them, sending a video camera down the line may prove that you don't in fact need a whole new sewer. Now you know why most firms do not have drain video cameras in their trucks!
We feature the finest sewer cameras made by PearPoint and General and we carry one in every truck at all times. Each one has the ability to send out a geometrically defined radio signal that our professionals can competently locate and interpret to determine the position, location and depth of any occlusion or issue in sewer drains. In this way if you have just one broken section, you may opt for a permanent resolution with an accurate spot repair, saving usually thousands of dollars over a an unnecessary complete replacement.
We usually encourage our clients to have our plumbing professional show and explain what you are seeing on our sewer video camera screens. The benefit to the deployment of a sewer video camera by an ethical professional is they can remove all doubt, speculation and most importantly, exaggeration, which is unfortunately why most firms don't use them.
We also perform commercial video camera inspections too. Coming soon will be actual photos of what you might see in your sewer with our cameras.
Was nice to find a company that is honest and treats an elderly person (I'm 88) with respect & like one of their family and not being taken advantage of.
– Deane Schultz