Sewer Laterals
We are one of the very limited number of plumbing firms approved by cities do private sewer lateral work and even work on city sewer mains. We own all our own equipment, from the mandatory traffic control equipment, hydraulic shoring for trench safety to our own compact hydraulic excavator.
Because we do not have to subcontract out for that equipment and services, we can pass the savings along to our clients. In fact we perform sewer lateral rehabilitation for other plumbing and rooter firms.
Of the very few firms that install or replace existing sewer laterals, most use common orange clay pipe. This material is readily available but utterly inferior which is why it is usually used as when installing a new sewer lateral or replacing an existing one. In our opinion it is "job security" as even the new connection methods we have seen have allowed massive root infiltration.
We normally use a superior engineered plastics that are more flexible, and eliminates the potential failure point joints every six feet that orange clay has.
Any type of sewer lateral work always needs to be done with the required city public works permits and is always inspected by city public works inspectors for your protection.
We know exactly what to do, and exactly how to do it right.
Below are actual photos of sewer lateral rehabilitation photos being performed by us.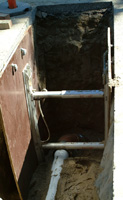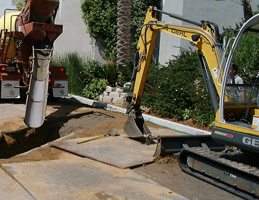 Was nice to find a company that is honest and treats an elderly person (I'm 88) with respect & like one of their family and not being taken advantage of.
– Deane Schultz