KRLA Talk Radio Featured Expert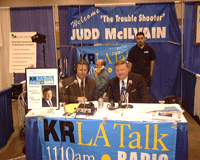 Dave Bischof has been the requested plumbing profession expert twice now on KRLA Talk Radio. Here he was interviewed live and unscripted, informing the listening audience of what to look for when retaining the services of a plumbing professional and answering questions related to city building permit requirements for changing out residential water heaters.
Dave Bischof is available to media, television, motion picture and other news organizations for radio, film television appearances and consulting. Just fill out our contact form and you will be return contacted immediately.
Was nice to find a company that is honest and treats an elderly person (I'm 88) with respect & like one of their family and not being taken advantage of.
– Deane Schultz